July 6, 2016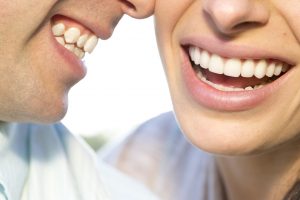 Dental bonding has quickly risen in popularity as an easy and effective form of cosmetic dentistry to alter the appearance of the teeth. Often used as an alternative to veneers, dental bonding allows you to fix chipped and cracked teeth, while also closing small gaps between the teeth. In some cases, dental bonding is also used as an alternative to traditional silver fillings as the material used is tooth-colored for a natural-looking repair. The versatile uses for the bonding material make it an ideal solution for those who have minor tooth flaws or for those on a budget. However, dental bonding in Bowling Green may not be right for everyone. As your Bowling Green dentist, we have everything you need to know about dental bonding.

What are the Benefits of Dental Bonding?
Dental bonding involves using an enamel-colored material that's easily molded and shaped to alter the appearance of a tooth. The dentist will first need to apply a phosphoric acid to the tooth's surface, which roughens the surface of the tooth to create a secure bond.  The composite material is applied to a tooth and sculpted to the right shape. A special light is used to quickly harden the material, at which point it is then polished for a natural-looking restoration.
Dental bonding is ideal for those who have healthy teeth that have become chipped, cracked, or discolored. In some cases, the bonding can also be used to close small gaps between the teeth and to replace amalgam fillings. The diverse uses of the material often make it the preferred and more affordable option to veneers and bleaching because it easily reshapes and contours the teeth. However, unlike veneers and bleaching, bonding can't be used to whiten your entire smile. In addition, it's not recommended for use on teeth that undergo extensive force when chewing or to fix large areas of a tooth.
For those who are a candidate for dental bonding, you'll enjoy the cost, speed, and ease of the treatment for a more attractive smile. Once your bonding is complete, you'll need to protect the bonding to promote its longevity. You will brush and floss your teeth normally while keeping regular appointments with your dentist. The bonding material is subject to staining, so you'll need to avoid stain-causing foods and drinks and tobacco use. For those who have bad habits, like chewing on ice or using their teeth as tools, you'll need to stop these habits. While bonding is durable, it isn't as strong as porcelain veneers or crowns so you'll need to avoid things that may cause the bonding to crack or break.
Dental Bonding in Bowling Green
Derik E. Utz, DDS is your Bowling Green dentist for a flawless smile. If you're ready for a simple, effective, and affordable way to enhance the appearance of your smile, it's time to schedule a consultation for dental bonding in Bowling Green. Dr. Utz has been improving smiles for over 15 years. Let Dr. Utz give you the dream smile you've always wanted with dental bonding.
Comments Off

on Am I A Candidate for Cosmetic Dental Bonding?
No Comments
No comments yet.
RSS feed for comments on this post.
Sorry, the comment form is closed at this time.