About Our Bowling Green Dental Office
Dr. Utz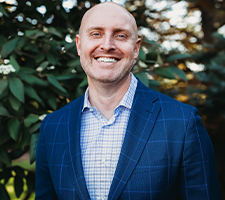 Dr. Utz is a native of Northwest Ohio. He graduated from Bowling Green State University (1995) with a Bachelor of Science in Biology, and Magna Cum Laude from The Ohio State University College of Dentistry (1999). Dr. Utz has provided comprehensive dental care to the Bowling Green area for over 20 years.
Dr. Utz is a member of the American Dental Association and the Ohio Dental Association. He donates his time and skills working with the Give Kids a Smile Program, as well as Dental Options, the Ohio Program for needy, but deserving individuals.
Dr. Utz and his wife, Beth have six children. They enjoy traveling and spending time with their family.
Dr. Utz takes great pride in offering a full range of dental services. He understands the various needs of adults and children and makes it top priority to make sure all patients are comfortable and treated with the utmost integrity.
Our Dental Team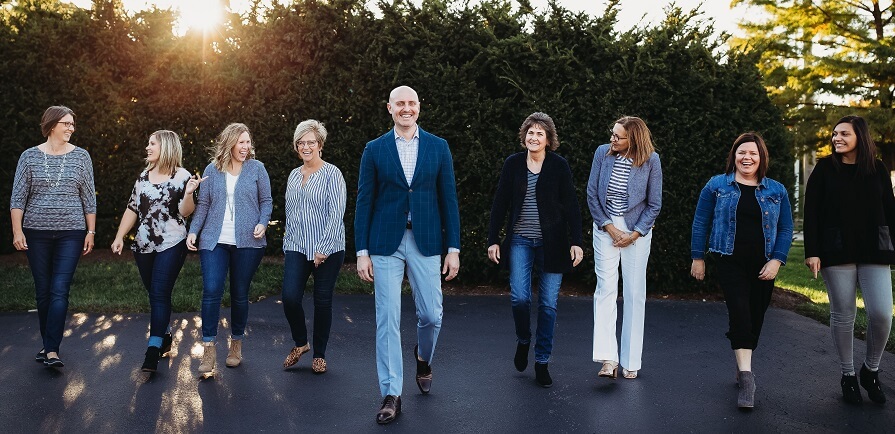 Karen Greulich/Business Administrator
Karen has over 30 years of dental experience which is evident in the care and guidance she gives you, through a comfortable visit with us. She manages the daily operations of the office, which includes welcoming you to our office, assisting you with insurance and account issue, and answering other questions regarding your oral health. Karen regularly attends continuing education courses and is a certified specialist with the International Congress of Oral Implantologists. Karen enjoys cooking, gardening, movies, and spending time with her grandsons, family, and friends.
Kaitlyn Pahl-Cope/Business Administrator
Kaitlyn is an important member of our caring team, always welcoming our patients with a warm and genuine smile. She graduated from Bowling Green State University in 2012 and joined our practice in 2014 with six years of invaluable experience in the field of dentistry. Kaitlyn's responsibilities include helping our patients with their insurance benefits, providing patients with helpful information about their oral health, and keeping the office running smoothly. Kaitlyn and her husband stay busy with their four children: Noah, Addison, Theodore, and Ethan. In her leisure time, she enjoys being outdoors and playing with her kids.
Amber Cavanagh/Business Administrator
Amber is the newest member of our office staff and will be here to provide you with the same great service that you have come to expect. She will welcome you with a friendly smile and be available to help you with scheduling, billing and insurance questions or any other questions you may have about your oral health. Amber is a graduate of Bowling Green State University and a lifelong resident of Bowling Green, where she resides with her husband and two sons. In her free time, she enjoys traveling with her family, cheering on the Cleveland Indians, and walking their labradoodle, Tito.
Megan Riffner/Registered Dental Hygienist
Megan graduated from Owens Community College in 2008. She always loved going to the dentist and that is what inspired her to become a hygienist. One of her goals as a hygienist is to make sure the patient has a comfortable and pleasant experience. Megan grew up in the area and married her high school sweetheart, Brett. They reside outside Bowling Green with their two children Hadley and Kase.
Mikayla Kime/Registered Dental Hygienist
Mikayla grew up in Bowling Green, Ohio. She attended BGHS, Bowling Green State University, and then Owens Community College where she completed her degree in Dental Hygiene. She enjoys building relationships with patients and helping them maintain a healthy mouth. Mikayla recently got married. She and her husband enjoy traveling together, with a goal to visit all 50 states.
Jama Vollmar/Registered Dental Assistant
Jama is from Tennessee and graduated from Volunteer State Community College. She has been a dental assistant for over 30 years and is one of our chairside dental assistants. Jama strives to ensure each patient has a pleasant experience. In addition to performing dental and lab procedures. She expertly maintains our equipment as well as patient documentation. Jama is also a member of the American Dental Assistants Association and The National Dental Assistants Association. Jama is married with two adult sons. She enjoys gardening, traveling and spending time with family and friends.
Heather Zimmerman/Certified Dental Assistant
Heather's 20 plus years of dental assisting experience allows her to anticipate and carry out the skills necessary to give you a smooth, quality experience with us. She performs routine maintenance on all dental equipment and conducts inventory of all the dental products. Heather is a member of the International Congress of Oral Implantologists. Heather and her husband Caleb have two children, Owen, Nora Mae and a bulldog, Eleanor. She enjoys working in her garden and camping with friends and family.