March 17, 2016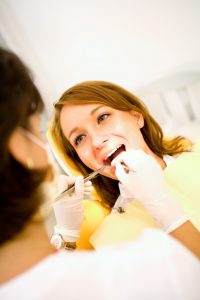 Dentists have been recommending twice-annual dental checkups and cleanings for decades as a way to keep a healthy smile and prevent tooth loss. But come on, let's be honest — is it really all that necessary to see the dentist every six months? Seems like a lot, right? We've got the answer right here.
Yes.
It really is all that necessary.
In fact, visiting the dentist twice each year is the number one way to prevent gum disease and associated tooth loss. Adults who have even one of the risk factors related to gum disease should certainly maintain their twice-annual dental routine (on top of good oral hygiene habits at home). Keep reading to find out more about these preventive visits from your Bowling Green dentist, Dr. Utz.

Preventive Checkups Vital for Good Oral Health
Your twice-annual checkup and cleaning gives you more than that clean-mouth feeling. When you stay on top of your six month visits to the dentist, you're letting professionals examine your gums, teeth and mouth to look for the small signs of much larger problems — like decay, gum infection and even oral cancer.
Gum Disease Easily Preventable
One of the most important aspects of a preventive checkup is to gauge your risk for gum infection. Gum disease (also known as periodontitis) is a serious condition that affects approximately 75 percent of Americans to some degree — a startling figure when you consider the fact that gum disease is the number one cause of tooth loss in older adults. The condition has also been linked to a number of other health conditions, like diabetes, heart attack and stroke.
Fortunately, gum disease is easy to prevent with good oral hygiene at home, like brushing for two minutes, twice a day and flossing daily, and regular visits to the dentist. Patients who have one of the following risk factors (more than half of adults) should be especially careful to maintain their regular checkups.
Risk factors for gum disease include:
Poor oral hygiene

Tobacco use of any kind

Older age (patients over age 35 are at a higher risk for gum disease)

Pregnancy can lead to a temporary condition known as pregnancy gingivitis

The use of certain medications which cause dry mouth

Decreased immunity occurring as a result of leukemia, HIV/AIDS or diabetes
Do you have any of these risk factors for periodontitis? If so, call your dentist in Bowling Green to schedule an appointment for your checkup and cleaning. Dr. Utz and his team of dental professionals can evaluate your risk for gum disease or provide periodontal treatment as needed. Contact us today!
Comments Off

on Yes, Twice Annual Dental Cleanings Are Necessary
No Comments
No comments yet.
RSS feed for comments on this post.
Sorry, the comment form is closed at this time.