November 23, 2016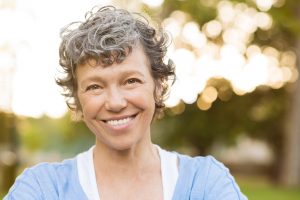 Partner with your dentist Bowling Green to keep your smile beautiful and functioning well for life.  If tooth loss happens through oral injury, decay or periodontal disease, Dr. Derik E. Utz offers the premiere tooth replacement option: dental implants in Bowling Green. These artificial teeth appear, function and feel like natural teeth. Many people are candidates for this outstanding procedure.
The Advantages of Dental Implants
Dental implants avoid the harmful consequences of tooth loss–namely:
Slurring of speech
Compromised biting and chewing
Unattractive smile gaps
Prematurely aged facial appearance (skin wrinkling and sagging)
Gum and bone recession
Misalignment and weakening of teeth adjacent to a smile gap
Composed of titanium screws, metal alloy post abutments, and lifelike porcelain crowns, dental implants insert into the jaw bone during a straightforward in-office surgery. Dental implants are durable and exercise the bone every time the patient bites and chews.  Multiple implants support fixed bridgework or partial or full dentures, too, giving patients exceptional stability and outstanding aesthetics.
Why Dental Implants Work
Back in the 1950s, science discovered that human bone is attracted to the natural metal called titanium. Through an amazing process called osseointegration, the jaw bone adheres to the implant device.
So, when a dentist places an implant device, the patient's bone bonds to it over several weeks of post-operative healing. After attachment of the abutment and porcelain crown, the dental implant patient in Bowling Green has a very solid and realistic tooth.
Who Can Receive Implants?
Many teens and adults qualify for dental implants. Patients must be in good overall and oral health and have adequate bone density. People with poorly controlled diabetes or having cancer therapy should postpone implants until health improves. Also, good candidates do not smoke and have disciplined oral hygiene habits, including twice daily brushing and flossing and twice yearly exams and cleanings with Dr. Utz.
Dental implants do not decay, but they can get an infection similar to gum disease. Called peri-implantitis, this devastating condition may require removal of implants. Therefore, regular at-home and in-office hygiene is vital to keep implants sites clean and free from harmful inflammation. With good care, implants succeed and are retained over 95 percent of the time.
Treatment Time and Costs
From initial consultation to healing, the dental implant procedure takes several weeks to months. Pertaining to costs, dental implants are more expensive initially than traditional bridgework or dentures. However, because of their high success and retention rates, durability and longevity, implants actually cost less as years go by. Bridgework and dentures rest on top of the gums and do nothing for jaw bone density. These traditional appliances last no more than 10 years.
Consider Dental Implants
If you anticipate tooth extraction or are already missing one or more teeth, explore these outstanding tooth replacements with Dr. Utz and his team. Contact the office schedule a consultation. Chances are you are a good candidate for dental implants.
Comments Off

on Are You a Candidate for Dental Implants in Bowling Green?
No Comments
No comments yet.
RSS feed for comments on this post.
Sorry, the comment form is closed at this time.